Description
BONDOLIO EXTRA VIRGIN OLIVE OIL

DETAILS: This year our farm and our mill achieved the status of Certified Organic. We are so very proud of this achievement.
Our annual Sundays in December is on 13th stop by the farm to taste this year's harvest of Bondolio Olio Nuovo
open house, mill tour, pizza. 
We are proud to once again receive the prestigious Good Food award recognizing us as artisans of EVOO. Receiving this honor Bondolio has been recognized as a  social and environmentally responsible farm that uses exceptional craftsmanship to ultimately bring to the consumer a unique flavor.
This year's oil was harvested on November 4, 2021, and is true to our passion of providing a unique extra virgin olive oil experience for your palate.
Pouring Bondolio provides a visual of golden green EVOO. On its way up to your mouth you will sense a nose of fruit and fresh cut green grass.  Traveling across your palate you will taste Bondolio's complex structure with hints of artichoke and tomato. At the end of the journey in your mouth you will enjoy the traditional Bondolio delayed release of a wonderful phenolic peppery taste. Bondolio, an exquisite extra virgin olive oil.
Creating Bondolio EVOO has always been about our passion for bringing our favorite old world flavors of Southern Italy to California. Yes they are old world flavors. You see, when the Greeks colonized Southern Italy around 800 BC, the peninsula and the island of Sicily became the ancient Greek analogue of the San Francisco Bay area. All things to do with Greek architecture, agriculture and fine cuisine were concentrated on the Italian peninsula. Aboard some of the first Greek ships passing from the Greek islands to the island of Sicily were Grecian arborists tending to a precious cargo, olive trees indigenous to Persia. These olive trees were highly prized by the Greek epicurean. The progeny of these trees are found in the orchard at Bondolio and are responsible for the flavors we offer you.
Enjoy!
COOC Certified Extra-Virgin
This will be our second year of our farm and mill as Certified Organic.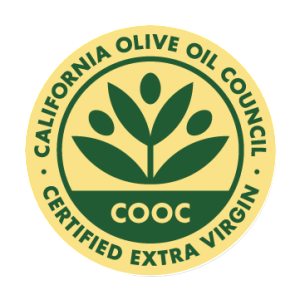 Varietals: Biancollila, Cerasuola, and Nocellera
Stock: Available now
Harvest Date: November 4 2021
Max time from tree to mill: 90 minutes
Size: 500ml Bottle