California Corn & Tomato Risotto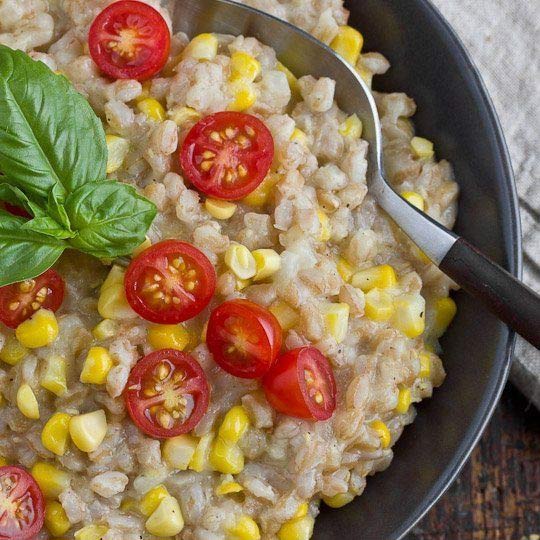 Most of my recipes come from Italy, but I actually made this one up.  I was in Bend, OR for the National Time Trials in 2013 and our good friends Kristen and Ken Hill came up with us to support me for this race and it was Kristen's Birthday.  I wanted to make her something special for her Birthday.  We went to Whole Foods and I try to buy what is fresh and they had great fresh corn and really sweet cherry tomatoes.  So I decided to make risotto.  Kristen loved it and her daughter Kennedy always tells me that that it is her favorite dish.  I recently made this dish for my niece Amy Bond for her engagement party since she is marrying an Italian and moving to Italy.
This makes enough for an appetizer for 12 or 13 people, or 6-7 main courses.
Enjoy.
 Ingredients:
1 1/2 cups of rice (the rice must be rice designed for risotto

1 medium yellow onion diced into small pieces

Chicken stock (if you do not make your own, Swanson's Organic is the best or just regular or low sodium Swanson's chicken broth)  The broth must be warm and yo
need 4-6 cups depending on the rice and how much it needs for the rice to be soft or al dente

2 ears of corn( Take off the kernels) or you can use a package of frozen corn

1 basket of cherry tomatoes

3 tablespoons of Bondolio Olive Oil

1 cup of white wine

1 stick of butter

2 cups of grated parmigiana cheese  (must buy your own and grate it, r it will not taste as good. Try to get a real Italian not American)

Chopped Italian parsley or basil leaves

Salt to taste
Directions:
Heat the olive oil in a dutch oven and add the onion.  Once the onion is soft, not brown, add the rice.  Cook the rice for about 1 1/2 minutes to get it a bit toasty. Add the wine and stir on a continuous basis. Once the wine is gone, add chicken broth two ladles at a time and stir all the time.  You really cannot walk away.  It is time consuming, but so good.  When half of the chicken broth is gone, add the corn and slowly continue to add  chicken broth until you think the rice is almost done.  Add the tomatoes and a bit more of the chicken broth.  Try not to break up the tomatoes too badly.  When you think the rice is done (I always taste it),  then remove from heat and add the 1 cup of the cheese and the stick of butter.  Stir.  Put the lid on to make sure the butter melts and before you serve it stir it and add salt to taste.  Put in each dish and sprinkle some cheese on top and a bit of parsley or basil to make it look pretty.
https://www.bondolio.com/wp-content/uploads/2021/12/rissoto.jpg
540
540
Bondolio
/wp-content/uploads/2021/11/bondolio-olive-oil-green-bx.svg
Bondolio
2021-12-03 08:58:40
2022-03-09 22:56:10
California Corn & Tomato Risotto