Fava Bean & Artichoke Soup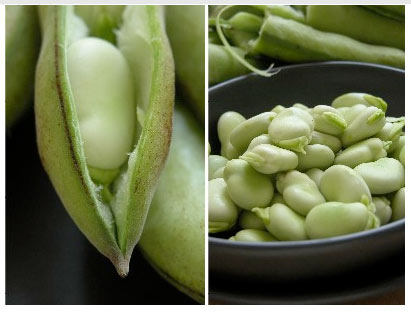 We love visiting Umbria. Geographically, Umbria is roughly in the center of Italy sitting between Tuscany and Lazio. We have stayed in agritourismos (farm B&Bs) and riding our bikes many times along vineyards and olive orchards from Torgiano to Montelfalco.
A couple of Christmases ago, we were staying in the capital of Umbria, the hilltop city of Perugia whose namesake is on the foil of a delicious chocolate. On one particularly cold and windy day, we were strolling through the city center looking for the old Roman aqueduct turned pedestrian walkway nearby to the main street Corso Vannucci. I was absolutely freezing. I was holding onto Malcolm and said, "I really want soup for lunch" and in 10 more steps we stumbled into a wonderful little restaurant, La Taverna. Of course soup was on the menu and it was exactly what I had been salivating for. There were actually two soups on the menu and the one that seemed really interesting was the Fava Bean and Artichoke.
The soup was fantastic and I began deconstructing it so I could share. That night while I was writing my thoughts, I knew I was still missing something from the recipe so we went back the next day and had the same soup again and this time I asked the proprietor for some help which he was happy to volunteer.
I have to share something else – the soup was presented in a large wide mouth Mason jar! I have not seen a canning jar since in Italy. When we returned home to California I served the soup to our friends Joe and Marlene Santos who own Davis Wheelworks. They loved it!
Of course my soup is not as good as eating it in Perugia but almost. I am not sure if it exactly how they made it but I am sure you will enjoy it as must as I did. Serve the soup with a salad and some great bread and you have a nice easy meal for friends.
Ingredients:
Homemade Croutons(See Recipe below)
Dried Fava Beans
One onion chopped
4 jars of artichoke hearts packed in brine
Fresh thyme
2 boxes of Swanson's Organic Chicken Broth
1 box of Swanson's Chicken Stock
Sea salt to taste
Pepper to taste
Bondolio Olive Oil
---
Homemade Croutons Recipe:
1/4 loaf of good Artisan Bread and cut into slices and then cubed
I stick of butter
1/2 cup of Extra Virgin Olive Oil
1/4 cup of finely grated Ptarmigan Cheese
Pinch of sea salt
Put the olive oil in a frying pan with the butter and melt the butter.
Throw in the bread cubes and cook until browned on all sides and covered in the butter olive oil mixture. Drain on a paper towel and then throw on the cheese and mix. If leftovers do not refrigerate just put in a bowl or plastic bag and serve with the leftover soup.
https://www.bondolio.com/wp-content/uploads/2021/11/Fava-Bean-and-Artichoke-Soup.jpg
312
411
Bondolio
/wp-content/uploads/2021/11/bondolio-olive-oil-green-bx.svg
Bondolio
2021-11-23 14:58:09
2022-03-09 21:02:27
Fava Bean & Artichoke Soup