About Bondolio Olive Oil
The History – Karen's passion for old world food
In the fall of 2002, Karen and I were on a short holiday in Italy staying at a B&B about an hour's drive east of Naples. The perfect spot to explore Pompeii and Naples.  On the morning of our departure we were having a breakfast of prosciutto, mozzarella, fresh fruit and cappuccino when the owner entered to say good-bye. She asked if we wanted to taste her fresh olive oil milled from her olives the night before. We answered "Of course". A few minutes later we followed our hostess out of the little city into surrounding farmland that is draped throughout the rolling foothills of the Apennines.
In a few minutes time, we drove into the olive orchard and were amazed to see a grove of very gnarly, very old trees with trunk diameters close to a meter. These olive trees were several hundred years old. Then we saw the stone barn where the oil was kept. The barn appeared to be built at the same time the olive trees were planted.
As we entered the barn, we saw several stainless steel containers. The air of the barn was filled with a delicious herbaceous aroma.
Our host handed Karen a slide of toasted bread and then drizzled a green, yellow, cloudy liquid and added some sea salt.   Karen put the wet bread into her mouth and smiled. A big happy smile. Karen is a foodie and uses lots of olive oil but she had never tasted such a wonderful flavor as she tasted right there. We purchased two 1-liter containers of olive to take back to California and turned out car south towards Paestum to visit our mozzarella farms.
During our drive, the smile on Karen's face sparked a discussion that was the beginning of the end of our almond orchard back home.
Back home we were living on a 10 acre almond farm we purchased in 1986. There are many issues involved with being an almond grower: the almond tree requires many cubic meters of water; the trees need lots of chemicals for nutrition and pest control; but the most important issue surrounding nut farming is the price fluctuations which vary from breakeven to net loss.
The farther south we drove towards Paestum the more interest we had in the olive orchards on both sides of the auto strada. The main question we were now asking ourselves was, could we produce as good a tasting oil in California as Karen had this morning in Italy?
It had been great for us living on the almond farm. Every Summer I plant a couple dozen varieties of tomato plants so Karen can experiment with canning and new sauces. One of her tomato reduction recipes took a podium spot at the California State Fair. But after decade of growing almonds, we were essentially paying more in real estate taxes than revenue from the nut crop. By the time we reached Paestum, we had decided to pull the almonds and explore a new paradigm of olive oil.
Over the next couple of years, we made several more trips to Italy and Sicily. Each evening in Tuscany, Umbria, Lazio, Puglia, and Sicily I would line up the local oils I had purchased from outdoor markets and local farms. I would take care that Karen could not see the bottles as I prepared a another in a series of single blind tests on her palate. In Italy, most of the olive oils are identified with the olive varietal used to make the oil and my goal was to identify which trees provided her with the smile taste.
After 2 years of subjecting Karen to 'blind tests' of about 150 olive oils from Lucca to Ragusa, I discovered Karen favored oil from three cultivars. She would consistently rank at the top of my blind taste trial, oil that had at least one of the 3 varietals! Sadly, none of the trees were available in the USA from any nursery I reached out to.
In 2004 we were awarded a USDA permit to import the Karen taste tested varietals as live plants from Italy. The next hurdle was to find someone that could propagate the trees we needed. We found a nursery that claimed they knew how to successfully export to California. We signed a contract and paid for the propagation and shipment of 1,250 young trees.
When the shipment arrived at the San Francisco International Airport, the FDA performed the obligatory inspection and immediately called us. The plants had arrived but there was a problem – could I come down to SFO immediately.
I left work and made the drive to the FDA quarantine building at the San Francisco International Airport. I entered the building, signed in, and was led through a couple levels of increasingly higher levels of cleanliness. In the center of the building I was met by a lab technician who explained to me that the young plants were contaminated with foreign soil. The Italian nursery had not grown nor shipped the plants in the required inert materials but instead shipped with local soils. Foreign soil could be a vehicle for disease or pests.
After the technician showed me the proof of contamination, he picked up the small box of the 1,250 plants, walked over to what looked like a dark brown wall, depressed a foot switch to raise a door revealing an incinerator and promptly threw the box of beautiful plants into the flames. I stood there and watched in horror. I had big tears rolling down my cheeks.
The following month we were back in Italy in search of another nursery and this time we were very fortunate and we signed a contract. Another year passed but in the afternoon of the 24th of December, 2006 the plants arrived on a Lufthansa Flight at 2:00 pm.  Since it was Christmas Eve, the plants had to be cleared from Customs before they go to the FDA.  We only had three hours before they closed for the holiday and they would die, as the FDA would be closed for three days.  We called customs and tried to push it through and at 4:50 the plants arrived at the FDA. This time they had much happier news – the plants arrived, they were free of contaminates, and the documentation was in order. The technician gave us our plants and we drove home happy.
On Christmas Day of 2006, my entire family and several good friend showed up to plant the bare root plants into small pots. For the next two ½ years the young trees had to grow in these pots inside a greenhouse that met the USDA's  and the California AG Department's  quarantine specifications.
While the new plants rested in their quarantine green house, we were back in Italy touring small family farms in Southern Italy and Sicily. I speak some Italian from living in Italy for a year during a post doctorate studies. All of the farms were friendly to us and took great care in teaching us farming methods that would minimize pests, pruning and when to prune, and how to harvest.
We also visited olive mills – from small family farms using stone wheels hooked to the PTO of the farm tractor to large cooperatives with mills that were 25 feet tall. From all of these self-guided tours we planned our orchard and we were determined to adhere to the old world methods of farming our trees. In 2008 the trees were released for planting.
By 2009 the trees were less than one meter tall but most had olives. I was very anxious to know if the project a mistake. With a hobby mill consisting of a common under sink garbage disposal appliance, a strong drill I use to mix mortar, and a hydraulic jack to press the olive paste through fiber glass fabric, I gave Karen her first taste of her own oil. Eureka! Karen was smiling! The flavor was everything Karen had hoped it would be. We were on our way to introduce a new flavor to the Northern California market.
As the trees grew so did the yield. The first four years we milled our olives at various local mills. It was, David Garcia-Aguirre, the first miller who explained the process to us in detail and took great care in processing our olives. The oil was fabulous. The next 3 years was mostly positive. All we had to do was get the olives off the trees, show up at the mill with a couple trailers carrying our fruit and the next morning pick up our oil. In the minus column was the bruising of the fruit sustained during drive to the mill. Another minus was not having a voice in the milling processes. But we were getting some nice oil.
At one point we thought of asking Darrell Corti, to taste the oil and give us his opinion since we have shopped at his store for years, after ½ hour of tasting and discussion, Mr. Corti said, "that's a nice little oil". At this point we became serious about competition. We entered a lot of shows we were wining gold. Bondolio has been rated as one of the 'Best 100 Olive Oils of the World'.
In 2013, we wanted to bring in a mill to do estate production. We visited several companies that manufactured olive mills and we arranged to visit farms that used those mills. We selected a manufacturer and began the planning of the size and layout of our mill.
Ultimately we selected a mill that produced the products which were each useful in their own right – pate of olive meat that could be consumed by livestock; olive pit that could be tilled back into the orchard or burned in our wood burning pizza oven. A green mill!!
The farm's income has sky rocketed 100 times over the almond nut crop yield. We have our own brand and the marketing is totally up to Karen. We now have loyal consumers from San Francisco to Washington DC.
Bondolio extra virgin olive oil is available at farmer's markets, gourmet foodie grocery stores and high-end farm-to-table restaurant venues of celebrity chefs.
The Olives
The rich soil surrounding the base of Mt Etna, Sicily, is the origin of the trees of Bondolio. There are three olives used in our blend Biancolilla, Cerasuola and Nocellara. We use Pendolio as a pollinator but harvest that separately and sell it as a single varietal. All four varietals have an ancestral lineage that can be traced to the Greeks who brought these trees to Sicily in a time that most likely pre dates the birth of Christ. Together, for the first time in California, these varietals reveal their unique heritage in Bondolio.
Sicilian Conditions
The quality of oil produced by the Bonds is due in no small part to the Sicilian like warm Summers, semi arid conditions and rich soil of the western edge California's San Joaquin Valley. A few examples of the natural landscapes of Sicily and California are the flora of prickly pear cactus, palms trees, and eucalyptus. It might be the trees of Bondolio are comfortable in their surroundings.
Farming
The spirit of the Southern Italian and Sicilian family farming methods have been documented by the Bonds and are followed closely to preserve the true heritage of these remarkable olive trees.
The layout design of the orchard is not the typical high density found with most olive farms. The trees of Bondolio follow the spacing patterns of the old traditional Southern Italian layout with more than 20 feet separation of trees and rows. Next, the trees are precision pruned with a focus on the center to open each tree to full sun and air circulation. These methods allow not only for maximum sun and fresh air to penetrate and nourish the trees and fruit but also they act to minimize the possibility of introducing pests that can bring damage to the fruit.
A Designer Orchard
The Bond family is committed to crafting their Sicilian memories into Bondolio oil for you. One might say they've come up with a designer orchard of Nocellara, Biancollila and Cerasuola varietals that produce a blend an oil of an aristocratic pedigree. In actual fact, Bondolio is simply an oil than one can find almost anywhere in Southern Italy and Sicily. It also is a fact the blend is far more of a special find in California. An elegant, unique California olive oil.
Tours By Appointment

We love to show our mill and farm to visitors.  We have a beautiful  outdoor tasting room with a brick wood log pizza oven.  We also have a beautiful indoor tasting room.  To arrange a tour, just call us at (916) 715- 9007.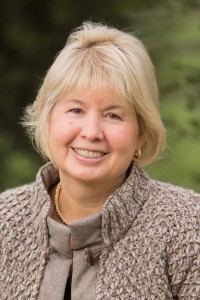 Karen Bond
Owner
Karen's passion is food and competition. Karen has been on the podium at the California State Fair with a tomato sauce, the 1.4 mile Alcatraz swim, the Pacific Grove Triathlon, and the National Championship Road Bicycle Time Trial. Karen has also won gold with her field blended, finishing olive oil at the Napa County Fair, Yolo County Fair, Los Angeles International Olive Oil competition and the New York International Olive Oil Competition.
Karen's physiology includes a palate so well dialed in to olive oil that her husband was able to leverage her taste into the design of the Bondolio orchard. In 2002 and 2003, during several trips to Southern Italy and Sicily, Malcolm would assemble the olive oils he was able to find in various city markets, village open air markets and family farms. Each night, Malcolm would perform a 'blind test' by presenting to Karen a flight of oils to rate. For Malcolm it was amazing to experience. Karen would invariably rate highest the oil that contained at least one of three cultivars. By the end of 2003 Malcolm knew the varietals he had to plant to have at least a fighting chance of producing the olive oil that would please Karen's palate.
Today, Karen is an enthusiastic board member of the California Olive Oil Council and serves as its Treasurer. Karen recently achieved a Master Miller certificate from the Olive Center, UC Davis.
Karen's background is the healthcare technology industry with particular skills in international marketing and product development. Karen's career in medical sales and administration spans more than 30 years, beginning with Smith-Kline Beckman (GlaxoSmithKline) in 1977. At GlaxoSmithKline, she served as the Worldwide Medical Sales Manager for the medical imaging division. In 1985, she joined Loredan Biomedical, a manufacturer of computerized physical therapy equipment, as Vice President of World Wide Sales. She later became President.
As CEO of Cedaron since 1990, when she co-founded the company with Malcolm Bond and Gary Engle, Karen has lead the company's exceptional growth, market expansion and product innovation. She earned a Bachelor of Art Degree from West Virginia University and a Master's Degree from the University of Pittsburgh.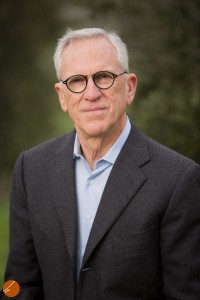 Malcolm Bond, Ph. D.
Master Miller, Horticulturist
Malcolm could not be more supportive of Karen's vision of producing one of the finest olive oils in the USA. Malcolm has a Master Miller certificate from the Olive Center, UC Davis.
Malcolm has more than 30 years' experience in the medical industry and is a leading innovator in medical technology and software. In 1980, he founded Loredan Biomedical, Inc., a manufacturer of computerized physical therapy equipment. He built the company into a $25 million organization in four years and one of the fastest growing companies in the U.S. It was named one of Inc. Magazine's '500 fastest growing private companies in the US' both in 1989 and 1990. Malcolm holds several patents for rehabilitation system designs and outcomes management. He earned a Bachelor of Science Degree from University of California, Irvine. He has a Ph.D. in Physiology from University of California, Davis and has done Post Doctorate research at the University of Padova, Italy (The National Muscle Disease Research Center). He is an Honorary Research Fellow at the University College, London, England.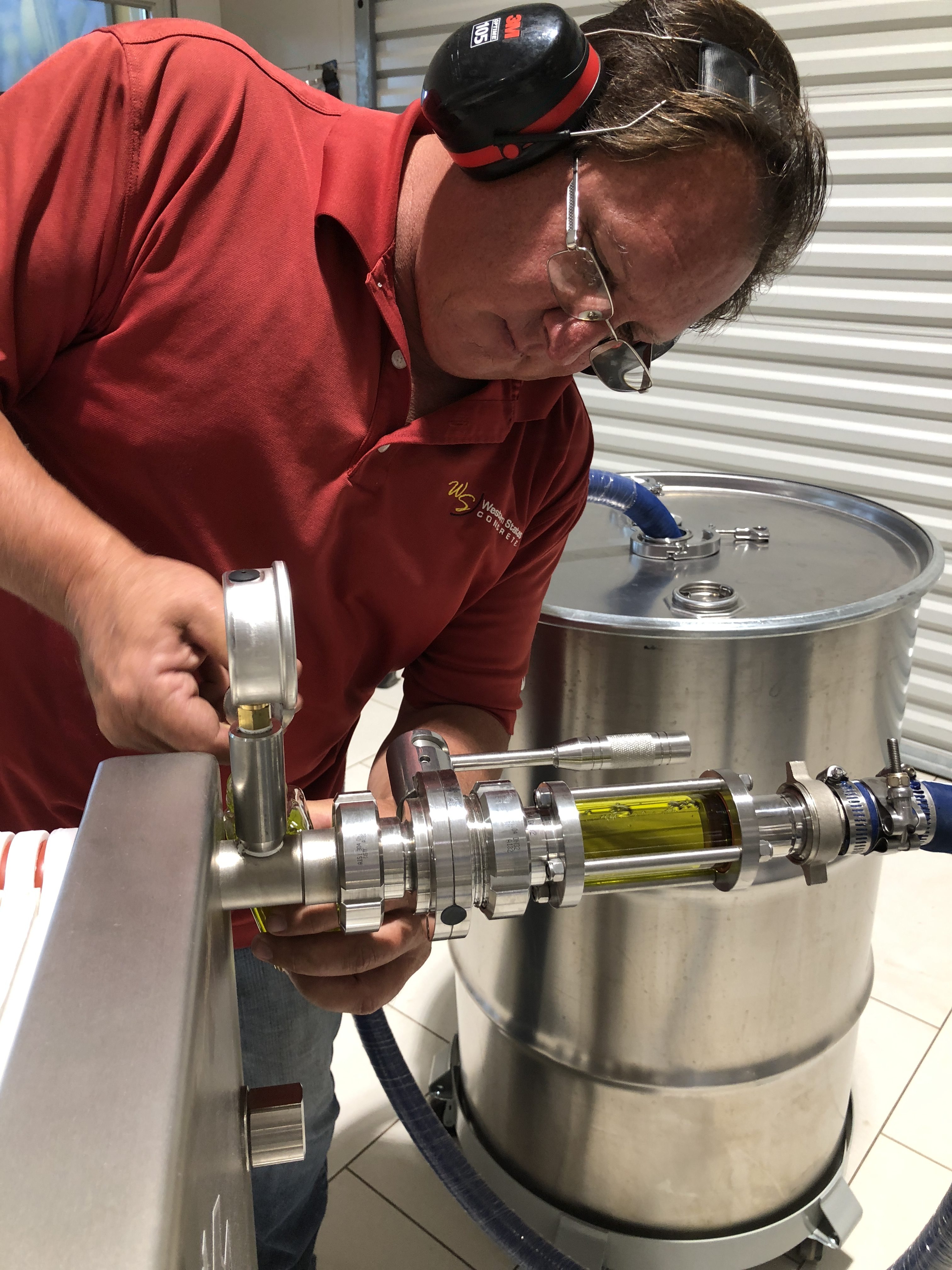 Brian Walker
Master Miller, Mill Layout Designer
Brian has been part of Bondolio since the initial design stage of the mill. Brian traveled to existing mills throughout California and listened intently to millers as they described the pluses and minuses of workflow and mill layout. Armed with this knowledge and his general contractor background, Brian was invaluable with layout of the mill.
With the addition of the new filtration system, Brian took ownership from the first batch and worked with Karen to dial in the filter to achieve the taste profile Karen desired.
Brian has a Master Miller certificate from the Olive Center, UC Davis.
The Bondolio Farm is located halfway between Davis and Winters, in the heart of the Sacramento Valley.
We are 22 Miles from Sacramento
We are 39 Miles from the Napa Valley
We are 70 Miles from San Francisco
In response of the state of California to the COVID, we have cancelled our plans for the Bondolio 1st Sundays in December Christmas events. Truly sad to cancel these events when we open our farm and share our fresh extra virgin olive oil.
Karen & Malcolm