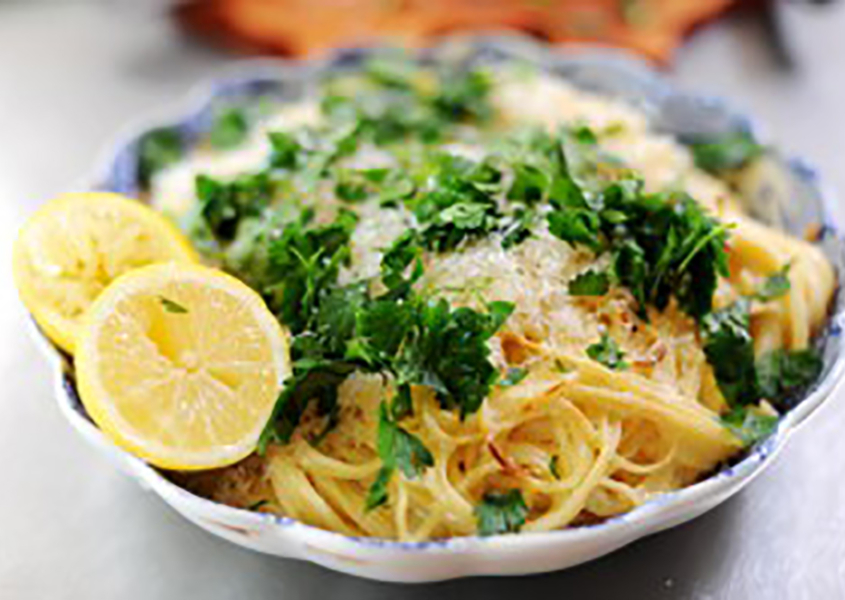 There is an all glass restaurant at the top of the hill on the via Veneto in Rome, just before it changes its name it enters the villa Borghese Gardens is the Café Veneto. The restaurant has one of its dining area's inside a building that looks a lot like an old diner car. If you have ever eaten at the Fog City diner in San Francisco, then you know exactly what Café Veneto looks like. We were on a Zagat + TCI mission this day – for us whenever we find a spot  that has a rating that matches Zagat and the Touring Club Italiano we try to make the time to get there, and Café Veneto qualifies as such a spot for us. One tip: because the restaurant shares the street with the Grand Marriott, staff might be inclined to add a bit extra to the bill – best to pay cash rather than producing your credit card.  You never tip in Italy but many tourists do not know this and this is why this particular restaurant tries to do this, just do not let them.
One of my favorite dishes here is the Lemon Pasta, it is absolutely fantastic.   It is so easy to make but everyone thinks you made a little piece of heaven.  Enjoy it as much as my friends do.
INGREDIENTS:
1 pound of spaghetti or linguine

1/2 cup of lemon Juice

1 tablespoon of lemon zest

1/2 cup of Bondolio olive oil
2/3 cup of grated  Parmesan cheese
Salt & pepper to taste
2 tablespoons of cream
2 tablespoons of basil or Italian Parsley
Cook the pasta in boiling water with salt in a large pot until it is al dente (firm to the bite).
Whisk the cheese, olive oil, and lemon juice
Drain the pasta but reserve  at least one cup of the warm water
Put the pasta back in the pot and add the lemon sauce and add a little water at a time if needed to keep it moist.  Add the cream and lemon zest.  Serve immediately and sprinkle a little basil or parsley on top to give it color.
https://www.bondolio.com/wp-content/uploads/2021/12/Lemon-Pasta.jpg
663
1000
Bondolio
/wp-content/uploads/2021/11/bondolio-olive-oil-green-bx.svg
Bondolio
2017-12-03 09:39:52
2022-03-09 20:04:28
Lemon Pasta Recipe