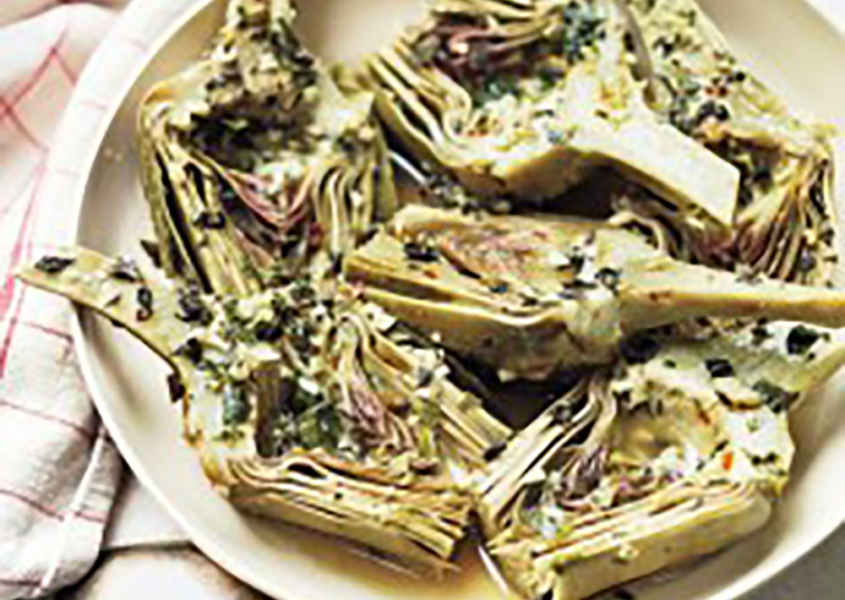 One of my favorite foods is Carciofo Romano, or Roman Artichoke and one of the best interpretations of this dish can be found at the Antipasti Bar at Ristorante La Campana, on Vicolo della Campana, 18, Rome, Italy. I can tell you that I've had dreams about having a couple of them on my plate. A lot of others feel the same way about this place as it has recently been awarded the prestigious Gambero Rosso award of excellence. Congratulations Marina E Paolo!
My first successful dining experience at La Campana was in 2000. I say successful because previously in previous attempts to dine here we had been turned away at the door after answering the question: "Prenotazione?" I mean this place is slammed, all the time. Even on wet, winter nights in the middle of the week. Not a table to be found. A reservation is the smart way to enter the door.
So we learned our lesson and we now call at least day in advance to ask "per domain sera, una tavola per due, ale otto? Si? Benissimo, il Nome Bond, come zero zero sette". After more than 10 years of having the pleasure of experiencing this wonderful neighborhood restaurant I finally summoned the courage to ask our waiter for the recipe of one of their amazing dishes – Carciofo Romano.
The waiter instantly smiled and still with a broad smile, and in keeping with the rest of his Italian DNA, he told me to show up at 9:00 am the next day and he would show me how to make this dish to feed about 50 people – but there was a catch to the invitation: if I showed up at 9:15 AM I could only learn how to wash dishes, not the Roman Artichoke!
The Roman sympatico: A twinkle in the eye, a passion for food, and an eagerness to share the secret. In the end, I did not make the trip back in the morning because the waiter brought out an unprepared artichoke to our table and from steps A to Z demonstrated the entire prep to me.
Here's the recipe that he shared with me. I have cooked this for many of my friends I hope to do you also!
INGREDIENTS
8 artichokes trimmed and washed
Place in Dutch oven
Add cloves of garlic from a whole head chopped
Add a whole bunch of parsley chopped (no stems)
Whole can of anchovies packed in olive oil chopped
Salt and pepper
Fill the pot half way up with olive oil
Turn the heat up to medium until it starts to bubble.  Turn heat down to low and cook for about 4 to 5 hours until artichokes are tender
You can serve them hot or at room temperature as an appetizer.  An artisan country bread for dipping into the juices makes it even better.
Can be microwaved the next day as leftovers. Oil? Yes, Bondolio does well on this dish.
https://www.bondolio.com/wp-content/uploads/2021/12/Roman-Artichokes.jpg
1250
1000
Bondolio
/wp-content/uploads/2021/11/bondolio-olive-oil-green-bx.svg
Bondolio
2017-12-03 09:43:26
2022-03-09 20:04:28
Roman Artichokes