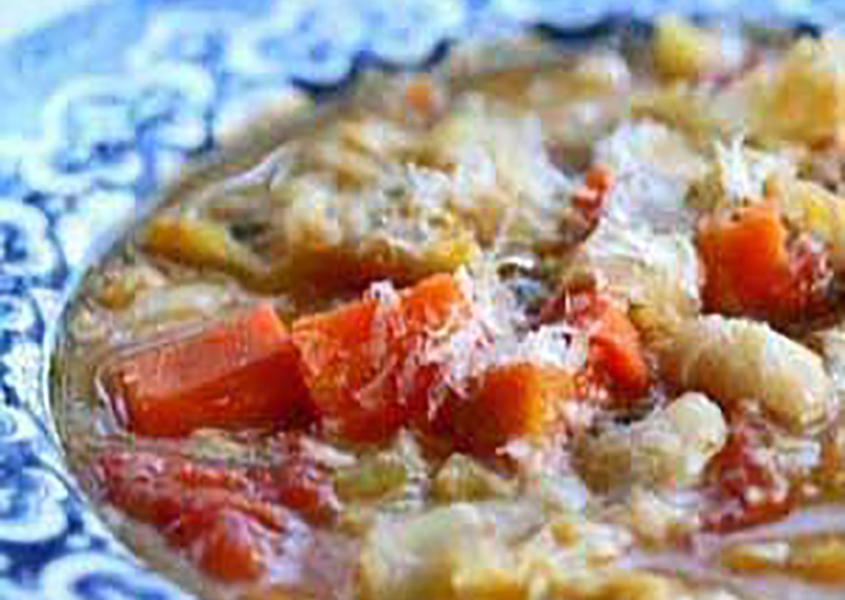 It's a cold November day here in California, with the first days of heavy rain. For those of you who don't live in California, it never rains here from May until October and we Californians go into a little shock this time of year.  So after a long day at work,  I love to make a large pot of my  favorite soup, Minestrone.  Everywhere I have been in Italy  there are a  million different ways to make this soup.  Traditional American minestrone has tomatoes,  I do not like tomatoes in my minestrone, I think they make the soup very acidity.  Here is my recipe, a wonderful comfort food.  It is so easy and fast to make after getting home from work.  Any leftovers you must save for lunch, tastes even better the second day, just heat in the microwave.
Ingredients
2 leeks sliced only the white part
1 small onion minced
3 small carrots sliced
3 zucchini sliced a cut into small pieces
2 large russet potatoes cut into small pieces
Two handfuls of fresh green bean with the ends cut off and cut into small pieces
2 cups of spinach
2 jars of some type of Italian beans drained and washed
2 box of Swanson Organic Chicken Stock (Can Use Vegetable Broth if you are Vegetarian)
1 box of Swanson Organic Chicken broth ( You can also make your own chicken broth or stock if you have the time)
6 oz grated Ptarmigan Cheese
Chopped Parsley for spinkling over the soup
Bondolio Olive Oil
Sea Salt to taste
Ground Black Pepper to taste
Loaf of Good Artisan Bread
Pour about two tablespoons of olive oil in a dutch oven pan and put in the leek and onion together.  Cook until the onion is transparent.  Add the carrots and the stock and broth.  Cook the carrots for about 5 minutes.  Add the potatoes and cook for 15 minutes.  Then add the zucchini and the green beans and cook for 7 minutes and then add the spinach and the beans and cook for another 2-3 minutes. Take off stove and serve in bowls.  Add fresh parsley and lots of cheese on top.  Take your Olive Oil and make a cross over the cheese with the Olive oil.  Serve immediately with a great artisan bread.
https://www.bondolio.com/wp-content/uploads/2021/12/Minestrone-Soup.jpg
750
1000
Bondolio
/wp-content/uploads/2021/11/bondolio-olive-oil-green-bx.svg
Bondolio
2016-12-03 09:41:52
2022-03-09 20:04:28
Minestrone Soup