Chocolate Truffles | Chef Alice Medrich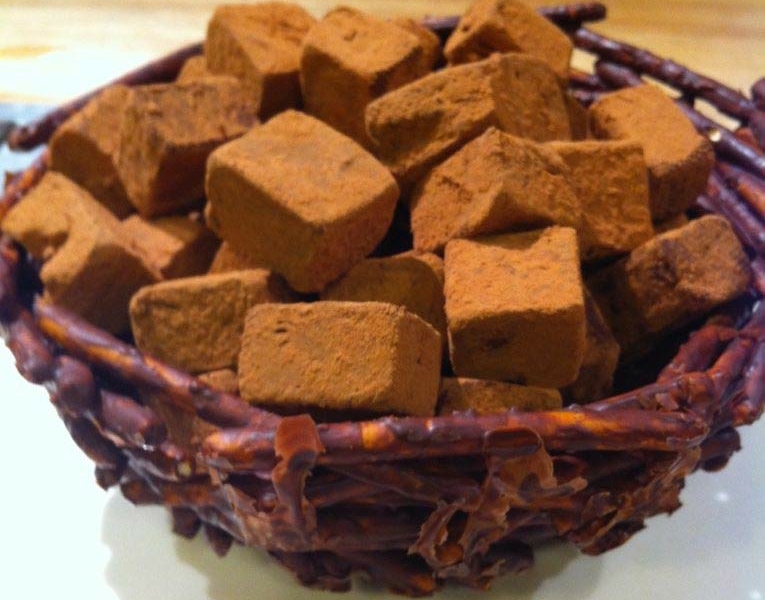 Inspired by the house truffle at Cocolat, these simple chocolates showcase quality extra virgin olive oil, which adds flavor and complexity, while freshly grated orange zest makes a fragrant finale.
Recipe courtesy of Alice Medrich, dessert chef, chocolatier, and award-winning author.
Makes 80-100 small truffles
Ingredients
16 ounces (455 grams) 60-62% dark chocolate, chopped
11 tablespoons (5 ½ ounces/155 grams) unsalted butter, cut into small pieces
2/3 cup(145 grams) extra virgin olive oil
2 pinches of fine sea salt
About 1/3 cup (30 grams) unsweetened cocoa powder (preferably non-alkalized)
1 bright skinned organic or unsprayed orange for zesting (optional), washed
Directions
Line the bottom and all sides of an 8-inch square pan with foil.
Place the chocolate, butter, olive oil, and salt in a medium stainless-steel bowl set directly in a pan of almost simmering water. Stir frequently until the chocolate is melted and smooth.  Pour the mixture into the lined pan and tilt to level the mixture.  Cover and refrigerate for at least three hours (or up to 3 days) to harden.
Remove the truffle pan from the refrigerator and use the liner to transfer the truffle sheet to a cutting board. Let the sheet of truffles stand at room temperature for 10 or more minutes to soften very slightly.
Put cocoa into a medium bowl and have another bowl handy.  Invert the sheet and peel of the liner.  Use a long knife dipped in hot water and wiped dry to cut the sheet into strips 3/4" to 7/8" wide. Cut the strips crosswise into cubes. Transfer the cubes to the bowl of cocoa powder.  Pour the truffles and from one bowl to another to thoroughly coat them with cocoa. If desired, use a micro plane zester to grate the zest of an orange directly over the truffles and toss them again. Store the truffles tightly covered for up to 2 weeks in the refrigerator or freeze them for up to 3 months. Remove the truffles from the refrigerator about 15 minutes before serving.  If necessary, toss with a little added cocoa and/or remove excess cocoa by shaking truffles gently in a coarse strainer.
Refrigerate to store. Remove truffles from the fridge about 10 minutes before serving.
Author, pastry chef, and teacher, Alice Medrich is one of the country's foremost experts on chocolate and chocolate desserts. Since 1976, when her renowned shop, Cocolat, opened and her first dessert feature (of many) appeared in a national publication, Alice's innovative ideas and recipes and her insistence on quality ingredients have influenced a generation of confectioners, pastry chefs, and home cooks. Among her early accomplishments, Alice is credited with popularizing chocolate truffles in the US and introducing the larger "American" chocolate truffle, now a mainstream confection. more>>
https://www.bondolio.com/wp-content/uploads/2021/12/Chocolate-Truffles-by-Alice-Medrich-765x1024-1.jpg
1024
765
Bondolio
/wp-content/uploads/2021/11/bondolio-olive-oil-green-bx.svg
Bondolio
2016-12-03 09:13:42
2022-03-14 13:04:34
Chocolate Truffles | Chef Alice Medrich